Post by Lord Thurian Bartholomew on Apr 7, 2014 15:43:15 GMT -5
Character Image: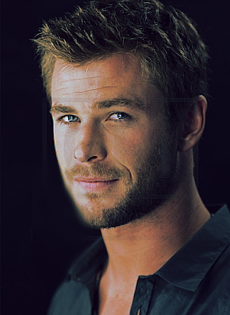 Image/Face claim:
Chris Hemsworth
Name:
Lord Thurian Tharth Bartholomew
Gender:
Male
Age:
34
Occupation:
Badass Wizard
Family:

Lady Iyeanna Bartholomew -Deceased - killed herself
Lord Henry Bartholomew- Deceased -killed by mother
Edward - Uncle- Deceased -killed by mother
Thurian - Grandfather - Deceased -killed by mother
Anna - Aunt - Deceased -killed by mother
Friends:
Lady Morgraine
The Lady Morgana La Fay
Enemies:
Merlin (Was once like a father to him)
Strengths:
Very strong natural talent for Magic
Weaknesses:
His curse, he has inner fights often which make him look crazy/ can make him freeze up as he tries to talk himself out of bad things.
Quote:
"Love is not power, power is power"
Personality:


Lord Bartholomew started his life as a loving young boy, he was innocent and had a clean heart. When he got older his personality started to change from kindness to darkness. He stopped thinking about staying loyal to Merlin and started to get jealous of him. Lord Bartholomew wanted power and nothing else. He wanted to be the most powerful Wizard not Merlin. Every thought he had revolved around getting power he didn't care who he hurt or killed to get it.
Sometimes his good heart tries to fight back, just as his mother gained control and took her own life so she wouldn't harm her son. He can sometimes be found arguing with himself or talking to himself some people think he is just going mad.
History:
Years ago lived a man named Rasputin the head advisor to a royal family a dealer in great magic. He helped the Kingdom through awful times, without him the Kingdom would have surly fallen. Rasputin became very close with one of the Princess; he would often use his magic to do beautiful things for her. He went to the King and asked for her hand in marriage, he knew he was born from a lowly pig farmer but he had brought himself to a place of power not to mention he helped save the Kingdom. When he asked the King the King laughed telling Rasputin he would never allow his daughter to marry the son of a Pig farmer, she was meant to marry a prince and she would.
Rasputin was heart broken and angry but he listened to his King, after all they were at war with many Kingdoms and marrying off the tree Princesses would make alliances. He hated that the love of his wife would just be married off to a man that didn't love her but he knew it was the best for the Kingdom. He tried to stay away from her but he loved her too much. He kept seeing her, the two often snuck away together and it wasn't long before the consummated their relationship. Soon she told Rasputin that she was pregnant with his child and afraid of what her father would do. Rasputin had faith that the king would do the right thing, he was wrong. The king banished Rasputin and sent his daughter away, Rasputin spent months looking for his love but when he found her she was near death. She had been exiled from the Kingdom with nothing but the cloths on her back, a common family took her in but a sickness took hold of the family killing them all. Rasputin arrived just in time to say goodbye and she died in his arms.
Rasputin returned to the Kingdom but this time he was in league with all of the King's enemies, he helped with the ruin of the Kingdom. He had the King's family killed and cursed the bloodline, no matter how good one was they would turn to darkness just as the King had been, just as a sickness took hold of his beloved darkness would infect even the kindest heart.
---
Generations later there was a poor farm boy who bumped into a woman in the market. He accidently knocked her into the mud she was wearing a cloak and he could not see her face. Horrified he helped her up apologizing for not looking where he was going. As she got up her hood fell from her head, it was love at first site for the man as it was for the woman. The two ended up talking for hours but as soon as she had appeared she had disappeared. He was dedicated to find her again even though his father and brothers insisted that he should focus on his work at the farm.
One day he was at his family's farm stand in town when the Lord of the land came through with his family. The boy's father helped the Lord and his wife; the boy went to help the daughter. When she turned around he dropped the basket of apples that he was holding. The girl he had bumped into stood right in front of him was the woman from the market only days before. His father walked up and smacked him in the back of the head for wasting product and acting like a fool.
Late that evening the girl came to him again once again dressed in her cloak; she apologized for letting him believe she was some she was not. The two had an instant connection and soon fell in love. There love was tested constantly, when she was engaged to another man the Lord had the farmer boy sent away. The Lord told his daughter that the farmer boy ran off with some other girl. He found a way back to her on the wedding day, when she saw him she no longer believed he ran off. He came back for her even on threat of death. When he said he would duel the man she was going to marry the man coward away, impressed by the farmer boy's willingness and bravery he agreed to allow the farmer boy to marry his daughter.
The two had a happy marriage, the Lord soon started to Love the farmer boy more than his own son. Everything was going great until one night when the Lord started to act strange; he was getting crueler and crueler every week. He started to question his wife and she reluctantly told him a story of Rasputin and their family's ancestors, that. The farmer boy did not believe the story and just believed that the man was going mad. One day the Lord was found hanging in his room, the farm boy and his wife were now the new Lord and Lady of the land. It wasn't long until the Lady found out she was pregnant. He was ecstatic but was noticing his wife acting strange; she was moody and often went off on her own. He pushed the feeling away figuring it had to do with the pregnancy.
Thurian Bartholomew was born nine months later; his mother was still sinking into her darkness. The Lord was starting to get worried, but soon she started to bond with her son. Thurian was always called Little Lord Bartholomew or just Little Lord. His first memories are of his mother, often laying with her or running around in the garden behind their house. He could also remember his father often telling him stories and playing games with him out back not afraid to get dirty. Bartholomew doesn't have very many good memories of his family but he does have one memory that has been seared into his memory.
He was downstairs sitting with his father by the fire; his father's family was all visiting. Bartholomew never noticed that there were no other members left on his mother's site of the family. Most of them had either been killed or killed themselves. He looked up when he heard his mother coming down the stairs but the look on her face wasn't not love, there was something dark about her. Her hair was not made and she was only wearing a nightdress. Bartholomew was scared so he ran to hide behind his father who at this point had stood up and asked his wife what was wrong. That's when she attacked him clawing at him muttering words, He yelled but when she pushed him he fell and hit his head. Bartholomew ran and hid under a table and watched as his mother killed his Uncle, Aunt, cousin, and Grandfather. He cried as his mother reached into the blood and drew something strange on the walls, unknown to him it was the symbol of Rasputin's curse. When she started to come towards Bartholomew his father woke up just as she had Bartholomew in her arms ready to kill him as well. She was muttering about ending the curse before it took her son, the Lord got up and wrestled Bartholomew out of her arms he yelled at his son to leave, to go find help. Bartholomew ran, he looked back as his mother tried to chase after him. His father pushed her back and held her back; even though she kept injuring him he kept repeating the story of how they met about their love. He had already lost so much blood it was remarkable that he could still hold her back. For a split second Bartholomew saw his mother's eyes come back, she looked right at him and told him she was sorry she reached into her own chest and pulled out her heart… it was pure black. Bartholomew ran to town, and found a man. Tears in his eyes he pulled on the man's sleeve and brought him back to his house. He was there as his father talked to the man and soon passed on to the next world.
Bartholomew almost instantly connected to the man named Merlin; Merlin was now the only person he had in the world. He loved to follow Merlin wherever he went he always wanted to be right next to him. Bartholomew started to show a talent for magic as soon as Merlin started to teach him. He was insanely loyal to Merlin, the man he considered a father to him. He was usually a very happy child even though the horrors he faced as a child, he always feared that he would succumb to his family's' curse. The white Magic kept the curse away for a long time keeping Bartholomew a loyal follower to Merlin. Slowly too slow for Bartholomew to even notice he started to slip away just as his mother did. When Lady Morgraine came to him with the idea to betray Merlin he agreed, his heart was growing black and the blackness wanted nothing but power.
His heart broke when he betrayed Merlin, he had felt like he didn't have control of his actions at the time but the betrayal let even more darkness into his heart. When The Lady Morgana La Fay realized that Merlin was still alive he and the other members of the Order of Merlin found their way to Storybrooke.
Likes:
Magic, Swords, Stew, Women, Merlin (He hates and loves him)
Dislikes:
Curses, His darkness, Merlin (He hates and loves him)
Roleplay Example:
Can be an old roleplay.
Lastly... Where did you hear about us?
Proboards Support