Post by Hua Mulan on Mar 20, 2014 16:36:15 GMT -5
Character Image: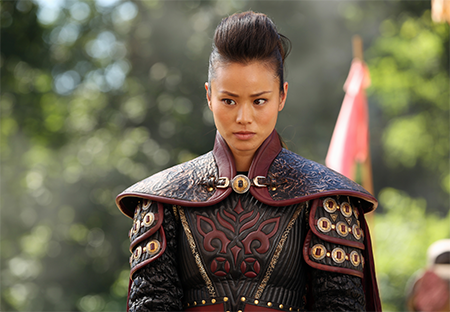 Image/Face claim:
Jamie Chung
Name:
Hua Mulan
Gender:
Female
Age:
24
Occupation:
Warrior
Family:
Hua Li [mother], Hua Zhou [father], Grandmama Hua.
Friends:
Mushu, Yao, Ling, Chien Po, Aurora, Prince Philip, Emma, Snow White.
Enemies:
Cora and anyone else who threatens home or her friends.
Strengths:
Excellent swordsman, archery, and martial arts skills; thinks outside the box, resourceful.
Weaknesses:
Her heart and being very opinionated. Both of which often get her in trouble.
Quote: "Maybe I didn't go for my father. Maybe what I really wanted was to prove I could do things right; so when I looked in the mirror I'd see someone worth wild, but I was wrong. I see nothing."
Personality:
Courageous, quick-witted, honorable, outspoken, self-reliant, opinionated, selfless, protective. Has all the qualities of a true warrior.
History:
The only child born to Fa Zhou and Fa Li, Mulan was always an oddball. Preferring her self-defense lessons with her father over the lessons her mother would teach her that often varied between keeping up her appearance or tending to house chores. At age sixteen she joined the Imperial Army to take her father's place. She was in the army for 4 years until they discovered she was a woman after becoming injured in battle. Despite her betrayal and 'dishonor' the captain of her unit, Li Shang, spared her life for saving his. Even though Mulan had no reason to help her former comrades (and every reason to return home), Mulan followed them to the Imperial City where she tried to tell them of the surviving Huns. Her warnings were ignored, and so the enemy was able to surprise Shang and the others as well as capture the Emperor. However, with the help of Mulan, they were able to successfully save the Emperor, and defeat Shan Yu. Upon his defeat, Mulan was named the heroine of China. She then returns home to present Shan Yu's sword and the Emperor's Crest to her father. After a tearful reunion Shang arrives, and arraignments are made for he and Mulan to marry. Though it was never her wish to marry, Mulan is content as Shang is a good friend and comrade whom she knows to be a good man.
The two have a steady relationship for several months, and days before the wedding, Mulan and Shang are called forth by the Emperor who tasks them with escorting his daughters to a neighboring kingdom so that they can form an alliance by marriage. Taking their closest allies: Yao, Ling, and Chien Po, the group begins their journey to the kingdom of Qui Gong. Throughout the journey Mulan and Shang's relationship is tested and strained to the point that they can barely stand one another. Unknown to them everything was the result of Mushu sabotaging their relationship since the start of the mission. Upon discovery of Mushu's plans, Mulan attempts to reconcile with Shang, but before she has the chance the group is attacked by bandits. Though Shang and Mulan managed to save the princesses, they are left hanging on a fragile bridge. Shang sacrifices himself knowing it can only hold one, and falls to his death.
Though greatly upset by Shang's death, the group continue on. Upon arrival, Mulan tells the rest of the group that she will marry one of the kingdom's sons in the princesses' place. Giving them all the chance to marry whomever their hearts' desire. During the ceremony, Mushu masquerades as the Golden Dragon of Unity; effectively forcing the king to stop the wedding and release the princesses from their vows.
Mulan escorts the princesses home, and explains things to the emperor then disappears. Knowing she would not find another companion equal to Shang, Mulan leaves China with no plans to return home as she would only bring more dishonor to her family when she was unable to marry a suitable man.
Likes:
Being accepted, martial arts, horse-riding, spicy food, day-dreaming, camping.
Dislikes:
Sexism, chores, formal clothing, arguing, threats, being dishonored.
Roleplay Example:
Lastly... Where did you hear about us?
Umm...